Find a job
Your new career could be a click away. See a list of jobs on offer at LRH
Our people are critical to our success.

We want to build a reputation of having the best healthcare staff in Victoria, full stop.

We will achieve this by ensuring we always provide safe and supportive environments for our people to learn, develop and flourish.
LRH is proud to be a values-based organisation offering:




a friendly and supportive team


a collaborative and innovative working environment


supported learning and development opportunities


modern and expanding facilities


career progression.





By building a strong, sustainable workforce, growing our research capabilities and utilising state-of-the-art infrastructure, we are able to provide our communities with care close to their homes.
Our Story
Everything you need to know to prepare yourself for a career at LRH
Living in Gippsland
Who wouldn't you want to make this beautiful part of Victoria their home?
Relocating
Ready to make the move? We may be able to help.
LRH has so many different opportunities for nurses looking to do what they do best or eager to try something new.
We offer many roles, from general nursing to midwifery, paediatric, intensive care, oncology, dialysis, cardiac and theatre nursing positions.
You can share your skills with our acute or community mental health service or support patients requiring palliative care.
And now is the right time to join us. LRH will open a major expansion in 2024 featuring more operating theatres, a women's and children's unit, new intensive care unit and new wards.
Who doesn't like somewhere new to work and a great community to live in?
If you are an international health or mental health professional, there are a range of financial supports available to assist with your relocation. Click here.
LRH employees Interns, Hospital Medical Officers (HMOs), Registrars and Advanced Trainees. Junior doctors are provided with rotations in emergency, medical, oncology, surgery, orthopaedics, paediatrics, obstetrics and gynaecology, geriatric evaluation and management, rehabilitation, anaesthetics, psychiatry and critical care. As a teaching hospital, we provide an extensive education and training program and professional development opportunities.
Every day is different in a regional and rural setting like ours and the patients and conditions you will be presented with are interesting, diverse and challenging.
We're recruiting in all areas! Working with our team at the hospital or in the community is rewarding and challenging. You will have a supportive crew around you as you care for some of the most vulnerable people in our community.
Have a listen to what our staff have to say about living and working in Gippsland.
Our Graduate Nurse Program gives you an opportunity to work in adult or aged inpatient units and in our community settings. We're looking for positive people to join our friendly team. And if you're looking to go part-time, we can help you get a little work-life balance.
If you're thinking about joining our midwifery team, your timing is spot on! In 2024, LRH will open a new Women's and Children's Unit, offering a modern, contemporary and caring setting. We also have a high level special care nursery that is fully equipped to care for babies with special needs.
Our Thomson Women's and Children's Unit is staffed by a specialist team of midwives, obstetricians, mothercraft nurses, lactation consultants, division two nurses and paediatricians.
Not many hospital's have an indoor pool but our Allied Health department does. It's a great facility for patients undergoing rehabilitation for an injury, post-surgery or recovery from an illness.
We have more than 20 physiotherapists and allied health assistants. Our occupational therapists work in purpose-built facilities to help patients of all ages adapt to and cope with the demands of every day life. Our social workers, speech pathologists, dieticians and specialist teams who run programs such as our falls and mobility clinic are integral to the Allied Health team.
We're one of the few hospitals offering a Prosthetics and Orthotics Unit able to fabricate and fit devices to the highest standards and using up-to-date techniques and component technology. Our P&O Unit also services and repairs prosthetic devices.
Our pharmacists dispense medication to patients at the hospital and people who are outpatients. The team works closely with staff and our patients on medication education and training.
There are excellent career progression opportunities and the option to specialise in a supportive friendly team. Pharmacists work closely with technicians and will rotate into different specialty areas. There is the option for on-call and weekend work where suitable.
Our pharmacy also provides an extensive oncology service, as the main hospital in Gippsland for the treatment of people with cancer and is involved in clinical trials at LRH.
Business, Financial & Support Services
Keeping a health service running, employing staff, maintaining equipment and buying goods and services is big business. There are a lot of people behind the scenes that contribute to our success and sustainability.
If you are an accountant or business or data analyst, LRH may have a role for you. As a member of our People and Culture team you'll help us to look after more than 2500 staff.
Our IT team is often on the scout for talented techie-types. There are administrative roles across the organisation. Or you might just be a handy caterer, cafe assistant, cleaner or security officer.
Everyone's contribution is valued!
We really want to provide positive employment opportunities for Aboriginal and Torres Strait Islander people. We welcome applications and offer the support of our Aboriginal Health Liaison officers. Phone (03) 5173 8653.
There may be a job or traineeship for you in clinical and non-clinical areas. It's worth having a look at the jobs we have available by clicking on this link or get in touch with our Aboriginal Health Unit.
LRH is a great place to learn and grow and there are pathways to leadership if that's where you'd like your career to take you. We invest time in our team to develop their skills and leadership capability. We want to build the reputation of having the best healthcare staff in Victoria, full stop. Will you help us?
Ready to apply?
Let us help you make the most of your application.
Education & Training
Medical Workforce & Interns
Start your medical career at the largest regional hospital in eastern Victoria.
Graduate Nursing & Midwifery
Our programs offer you a dynamic and well-structured graduate year.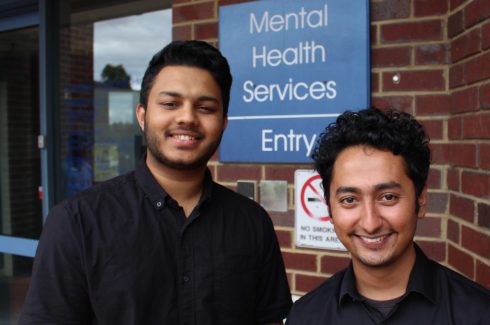 Mental Health Graduate Nurse
We're on the scout for positive individuals looking for a friendly environment to learn.
Mel, Mental Health Nurse
I love the flexibility of being able to look after my family as well as progress my career. There are great career opportunities working within the community and inpatient settings.